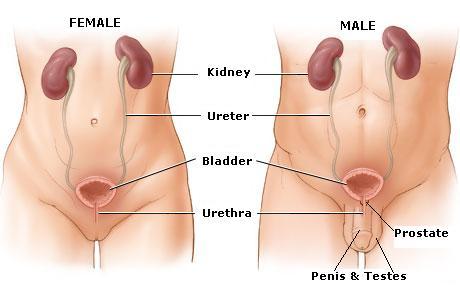 Laparoscopy also known as keyhole surgery is the art of performing surgeries through the smaller incisions using tiny instruments or telescopic instruments. Laparoscope is a narrow tube with a camera and lens attached to it. The advantages of laparoscopic surgery over the traditional open incision surgery are minimal postoperative pain and bleeding, a short hospital stay, faster recovery, and fewer complications.
Laparoscopic urology involves treating the conditions of genitor-urinary tract using minimally invasive technique, the laparoscopy. The urology conditions may include the conditions affecting kidneys, ureter, bladder, penis & testes.
Advances in the field of medicine and technology enabled the physicians to perform laparoscopic surgeries to treat a wide range of urological conditions with better outcomes and minimal adverse events.
ADVANTAGES OF LAPAROSCOPY:
• Blood loss is minimal.
• The pain is very much reduced than the traditional surgery.
• Gives improvised clarity and accuracy.
• Catheter removal is quick.
• The cancerous tissues are removed totally with minimum recurrence.
In this technique, the patient receives general anesthesia and the abdomen is filled with carbon dioxide. It is considered as a harmless gas which is breathed out through the lungs. The scopes or ports are placed on the openings made and the tissues or organs are removed by that. They are then closed with the sutures internally. The patient can go home within two to three days.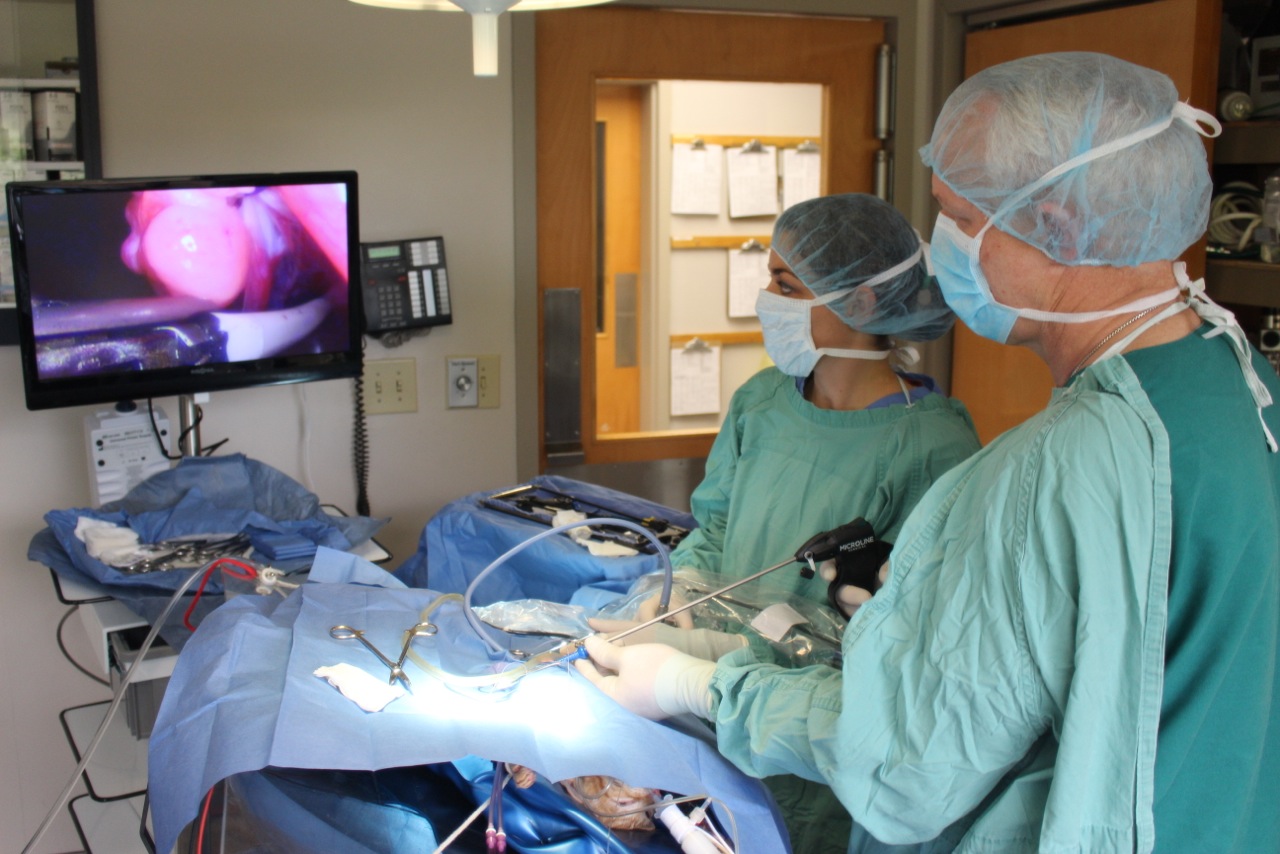 Laparoscopic removal of stones in the ureter, kidney and bladder : 3-4 keyhole incisions are made through which the laparoscope is introduced to visualize the size and location of the stones. Special probes are inserted through the instrument which powder the stones and suck them out or direct them to the bladder from where they can be flushed out.
Laparoscopic simple or radical nephrectomy: A simple nephrectomy is the removal of one kidney whereas a radical nephrectomy also involves the removal of one kidney together with the neighboring adrenal gland and lymph nodes. Laparoscopic nephrectomy is indicated in patients with kidney cancer, severe injury to the kidney, symptomatic hydronephrosis, chronic infection, polycystic kidney disease, shrunken kidney, hypertension or renal calculus.
Laparoscopic repair of Vesico - vaginal repair : Usually the vaginal wall and the bladder wall are distinct but at times due to injury, disease or prolonged labor an abnormal connection forms between them. This causes urinary incontinence. Through 4 keyholes during laparoscopic surgery, the organ walls are repaired and a layer of fat obtained from the abdomen is placed between the walls. Repair by traditional surgery would require a bigger incision and more damage to surrounding structures during approach as both bladder and uterus are placed deeply.
Laparoscopic donor nephrectomy: It is the surgical removal of kidney for donation. This procedure is performed for the purpose of kidney donation. The most serious donor complications that occur during laparoscopic donor nephrectomy include renal vessel injury, bowel injuries, bleeding or hematoma, and incisional hernias. The recipient complications include ureteral stenosis or leakage, vascular thrombosis, and allograft rejection.
Laparoscopic nephroureterectomy: It is a surgical procedure in which the surgeon removes the kidney and the ueter, the tube that carries urine from the kidney to the bladder. Laparoscopic nephroureterectomy is used to treat patients who have transitional cell carcinoma of the ureter or kidney.
Laparoscopic partial nephrectomy: It is a surgery to remove a diseased or damaged part of kidney. Laparoscopic partial nephrectomy is performed in patients with a solid renal mass in a solitary kidney or compromised contralateral kidney, bilateral renal tumours, and in patients with a normal contralateral kidney with small localized renal tumours.
Laparoscopic Pyeloplasty: It is a surgical procedure which relieves the obstruction between the ureter and the kidney at the ureteropelvic junction. Laparoscopic pyeloplasty is indicated in patients with obstruction of ureteropelvic junction, junction where the ureter attaches to the kidney. Ureteropelvic junction (UPJ) obstruction can be caused by congenital anomaly (condition present at birth) such as horse shoe kidney, scarring from a past surgery, or a blood vessel which may cause UPJ to kink or a stone that gets impacted in the upper part of ureter. This may result in kidney tissue damage causing pain, kidney stones, infection, high blood pressure, impairment of kidney function, and kidney failure.
Laparoscopic Radical Prostatectomy: It is a surgical procedure to remove all of the prostate gland and some of the tissue around it. This procedure is effective in treating prostate cancer that has not spread beyond the prostate gland. This is called localized prostate cancer.
Laparoscopic Radical Cystectomy: It is a surgical procedure that is used to remove the bladder. Laparoscopic radical cystectomy is the treatment of choice for patients with muscle-invasive bladder cancer.
You may want to ask some questions before your treatment begins:
For further information or free consultation, we request you to fill in inquiry form on the website and send medical reports to info@mymedopinion.com. MymedOpinion assures you that all arrangements for examinations, surgeries, and post-operative recuperation will be ably taken care of.
MymedOpinion help by its expertise and speed and quality of response. From arranging opinion from India's best cancer hospitals, hospital appointment bookings, travel and hotel accommodation, we manage our patient's needs efficiently.
Quick responses… Within 24-hours
World class results for cancer treatment
Cancer specialists with great qualifications and experience
Assistance to Plan your Travel and Apply for India visa.
Low Cost Surgery Packages and Treatment at Best Hospitals in India
Welcome to MyMedOpinion. We offer free, no obligation assistance to international patients to find best medical treatment in India. MyMedOpinion offers low-cost, world-class medical treatment & surgery in India, coordinated by a team of experienced service industry professionals. A large number of people from all over the world are now traveling to India for best medical treatment like Heart Surgery, Cancer surgery, Spine surgery , Urology surgery , Orthopedic surgery in India and other major surgeries. India offers an unmatched cost and quality advantages because it has world class hospitals and globally trained and experienced surgeons across every specialty.
Whether you are considering cervical disk replacement surgery, brain tumor surgery in India, heart valve replacement surgery, or prostate cancer treatment in India, we offer support and services to facilitate the care you require. We can help you find the Top heart hospitals in India, Urology treatment in India, or best and top cancer hospital in India.
The first step to help us find affordable orthopedic and joint replacement surgery in India, transplant surgery in India, weight loss surgery in India or heart surgery in India is to email medical reports for an opinion from leading doctors in the country. We will send you an expert medical opinion and estimate for the cost of your treatment from at least three leading hospitals in India. Once you decide, we help you schedule appointments, apply for a medical Visa and make the arrangements for your stay.
Please post a query on our website to know about treatment options at top India hospitals. We have assisted a large number of foreign patients to get affordable, excellent outcomes for hip surgery in India, knee surgery in India, cosmetic surgery in India and breast cancer treatment in India, when seeking best heart treatment in India, best cancer treatment in India, best spine surgery in India, or another major surgery and treatment.
We provide you valuable guidance, information, and assistance with arrangements, including medical opinions from a number of leading hospitals in India, assist in applying for medical visa and hospital appointment bookings, plan your travel and post hospitalization accommodations.
World's Class International Patient Care Services in India
Expert Medical Opinion Prior to Journey, provide options with hospitals and doctors, help in selecting Right Hospital with Right Doctor
Benefit from our expertise of helping hundreds of foreign patients find top quality, affordable medical care in India.
Zero Waiting Time and Best Cost service from Best Hospitals in India– Immediate Appointment, complete assistance hospital admission, medical consultation & treatment till discharge from Hospital
Assistance in Travel, Arrange pre- travel information , assistance for travel documents, including passports and visas & arrange comfortable Hotel Accommodation within budget
Copyrights ©2016: MyMedOpinion - Design And Developed By MyMedOpinion