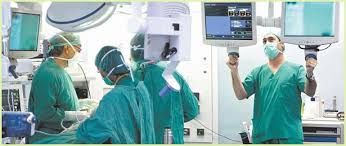 Surgery cost in India is moderately minimal when compared to other countries around the globe. India is one country which has witnessed a lot of growth in the medical world. Medical tourism Industry in India provides medical treatment packages at highly affordable prices to global health and wellness travelers. India boasts of having well qualified, experienced doctors and surgeons trained in the west. Hospitals in India have excellence in healthcare, infrastructure, technology; these multi-super specialty hospitals provide world-class medical care in India. Medical tourists travel to India as there is absolutely no waiting time, personalized medical attention. Healthcare facilities provided here are especially beneficial for those who do not have access to cutting edge treatments facilities, high quality hospitals and doctors in their country.
Facilities available in India
Indian Hospitals are in demand and widely known among the developed countries for their state-of-the-art health and medical services. Hospitals in India offer not only the most modern treatment but also the most economical price. This has especially benefited a lot of uninsured and underinsured patients. Waiting times for medical care is agonizingly long in most of the developed countries, which causes a lot of inconvenience. Top Indian hospitals have been a great relief for such patients. These hospitals provide all the amenities and medical services that are offered at the most advanced hospitals of the world.
MyMedOpinion is a reputed medical tourism provider in India that has established a strong bond with the best hospitals of India. These hospitals are known for their consistency in delivering high-class medical care and services which they are committed to. They offer revolutionary diagnostic and therapeutic care in almost every specialization of medicine and surgery. The multidisciplinary hospitals of our team unite some of the best doctors and surgeons from all across the world for our patients. These medical professionals are all internationally trained, well- experienced and well-informed of the cutting edge technology and the most modern practices of medicine and surgery.
MyMedOpinion came into existence with an aim to extend their support to uninsured international patients providing the best service at an affordable price ensuring much affordable medical expenditure. Our team serves the clientele most comfortable and convenient measures of healthcare services thus, making medical tour to India a very gratifying experience. Our company has been treating patients from all major countries like USA, United Kingdom, , Uganda , Kenya ,Zambia , Ethiopia , Democratic Republic of Congo , Ghana , Libya , Rwanda , South Africa , South Sudan , Sudan , Tanzania , Zimbabwe, Nigeria, Kazahstan, Kyrgyzstan, Moldova, Russia, Tadjikistan, Turkmenistan, Ukraine, Uzbekistan etc. We have network of selected medical centers, surgeons, doctors, physicians and top hospitals of India, who qualify our assessment criteria to ensure that our core values of Safety, Excellence and Trust are maintained in all our services. Being situated at a prime location in India, we are excellent caretakers of our visiting patients for medical treatment and their family members.
For each surgery or medical condition that requires attention, we provide our patients with options in the top 3 hospitals of India. These Hospitals provides an extensive list of treatment and surgery options which includes Endocrinology , Nephrology, Dentistry, Geriatrics, Bariatric, Cardiology, Hematology, Skin & Laser Treatment, Spine Surgery, Hand & Shoulder Surgery, Gastro-Intestinal Disorder, Infertility Treatment, Urology, Abdominal Surgery, Colorectal Surgery, Total Joint Replacement, Hip and Knee Replacement Surgery, Transplantation, Neurosurgery, Oncology, Orthopedics, Obstetrics & Gynecology, and much more.
MyMedOpinion provides easy access to Best Spine Treatment in India at Top Hospitals in India. Top Neuro Surgery through MyMedOpinion is another highlight of Indian Medical Services. Each of these top three hospitals suggested to you is renowned worldwide for its technical expertise and medical talents.
| Procedures | US ($) | Costa Rica ($) | India ($) | Korea ($) | Mexico ($) | Mexico ($) | Malaysia ($) |
| --- | --- | --- | --- | --- | --- | --- | --- |
| Table cell 1 | Table cell 2 | Table cell 1 | Table cell 2 | Table cell 1 | Table cell 2 | Table cell 1 | Table cell 2 |
The cost of treatment in India is much lower, almost three times less expensive in comparison to a number of western countries such as the United States and United Kingdom. Just opt for health tourism services through MyMedOpinion and get the best of healthcare services. We, at Medical India Tourism have been offering excellent assistance to foreign patients who visit India to avail advanced surgery treatments at low cost operations. Lower cost does not mean any compromise in quality. We are dedicated in offering the most advanced treatments in the world at reasonable costs so that you can fulfill your dream of leading a healthy life.
Irrespective of exorbitantly lower costs, the quality of health care that you get here includes top-class medicines, state-of-art technology, internationally accredited doctors, experienced staff, and even excellent food service and world-class accommodation options. In India, you get the best of medical, health care and Wellness Travel services and that too at absolutely affordable rate